Again and again I see people trying to start their own business online, only see the same people fail online a few weeks later. They dream about the freedom and benefits the online business can offer them, but they don't have the most important skill to succeed online.
It is a skill that most network marketing companies don't teach their new people, hence they actually reduce their chances of success dramatically.
The good thing is that the Number 1 Reason People Fail Online can be learned if you look at the right place – here.
It's lack of marketing training and the support from a proven system.
Marketing training like FaceBook advertising, Google, blogging, SEO, Instagram, Twitter, Copywriting, Webinars, YouTube, and so much more! (I will teach you everything)
It is ridiculous to think that bugging your friends and family could be a solid foundation for ANY business.
YES, warm market it is a great place to START!
Starting your business by contacting your friends and family SHOULD BE the FIRST thing you do.
If you open a pizza shop, your friends and family will probably be the first ones you tell, and your first customers!  🙂
BUT, once you've done that, now what?
Most likely you won't have had much success YET because your friends and family are probably NOT going to be interested in your products & services.
People Fail Online
Why?
REASON #1: They are Unqualified & Not Targeted
Most of your Warm Market is NOT interested in your product or service, nor are they interested in starting a business.
And NONE of them came to you!
You had to approach them. You were the HUNTER, instead of the HUNTED. THIS IS KEY!
REASON #2 : Quantity
I don't care how many people you know, you will never be able to run enough numbers with your warm market.
Think about this:
The training inside of MLSP will show you how some of our members generate 50-100+ laser targeted leads per day from the comfort of their home utilizing a little thing called the internet.
When was the last time you showed your comp plan or product line to 50 people in 1 day.
Think about doing that EVERY DAY… on autopilot.
Starting to see why I'm so excited about this solution?
But here's the deal: I only have time to work with SERIOUS individuals who are ready to COMMIT to their success.
If that's you, this will save your life:
THE TOP EARNER FRAMEWORK?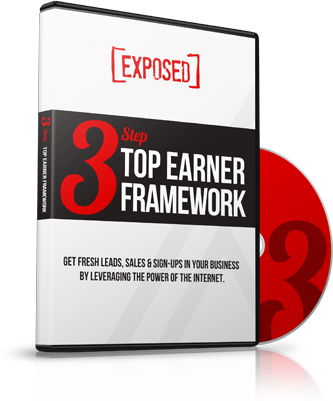 FINALLY Unlock the 3-Step Framework and Learn How to Get Fresh Leads, Sales & Sign-Ups in YOUR Business Leveraging the Power of the Internet.
After you have watched the video above, contact me personally if you have any questions.
YES, I am REAL and here to help after seeing so many people fail online.
In the meantime, I'll leave you with some more words from another one of happy our students,
*******************
"MLSP is the most lucrative lead generation and marketing training community I have ever experienced. I have been with several others in hopes to gain knowledge to promote my existing business. They were very mickey mouse, unorganized, webinars and training calls were unreliable, and support was rarely there.
MLSP provides all the training and support that is missing, and is an added necessity to any online business."
– Kirk P., NV
*******************
Was this helpful? Drop me a comment below if you got value. Feel free to share this with your team mates that should know about this.
More Resources For Your Success:
10 Successful Recruiting Strategies ebook: The #1 Secret To What To Say To Your Prospects, So They Will Beg You To Enroll Them In Your Business, Even If You Are Brand New With No Results Yet
How to do Cold Market Prospecting On Social Media: Never run out of people to talk to about your business without leaving your home.
Join the 3% Who Make Real Money in Network Marketing: FREE 12 Minute Video Reveals the Raw Home Business TRUTH, and What it Takes to Join the 3%
Thomas Andre's Helping Entrepreneurs And Network Marketers To Have Success
Skype: aatham (name: Thomas Andre Molvig)
Email: thomas.andre(a)molvig.no (replace (a) with @ when sending email)
Watch me LIVE: facebook.com/molvigsfanpage
Considering Coaching? Check out my coaching offer molvig.net/coaching where we're getting incredible results for our clients, and is engineered to get you in PROFIT fast.
PS: Haven't made any sales yet, or would like to increase your sales? This Course will help you (and it's on sale for a limited time)
If you enjoyed this post about The Number 1 Reason People Fail Online, feel free to share with others who should know and leave me your feedback in the comments below.