Are you an Entrepreneur looking for ways to grow your business, expand into new areas, serve your audience and leverage your time? Then you need to learn how to build stronger and more resilient teams.
It's just a fact that you alone won't have the time and energy to reach your goals. If you are, your goals are not big enough. Successful entrepreneurs build teams.
Let's dive into this very important topic.
If there's one constant among the stories of companies that succeed on a global stage, it's the value a strong team brings to a company's success. The one factor most of these companies have in common is that they're built by strong teams laser-focused on success.
If you're an entrepreneur who wants to build a successful company you can be proud of, one of the smartest moves you can make is to learn how to build a better team. To increase your chances of long-term business success as an entrepreneur, following are seven ways you can learn to build a stronger, more resilient team.
1) Learn to bring value to your team and ask the same of your team members.
A thriving organization is only as good as the sum of its parts. If some team members are contributing more than others, resentment can build and business mistakes can happen. When each member of your team knows they're expected to bring significant value to your company, the power of peer pressure to contribute to company growth will help you build a stronger business.
2) Challenge the thinking of your team.
Surrounding yourself with a bunch of 'yes' personalities won't do anything to help your business flourish. When each team member knows they have to defend their actions and are willing to hold each other accountable, the overall impact is a stronger team who are confident in their decisions.
3) Entrepreneurs who inspire their employees to strive for more naturally build stronger, more resilient teams.
Helping your employees to believe in themselves and yearn for more in their careers often leads to teams flush with talent and aspirations. While this will sometimes mean your team members go on to bigger and better opportunities, they will have helped your company flourish during their time with your business.
ATTRACTION MARKETING BUNDLE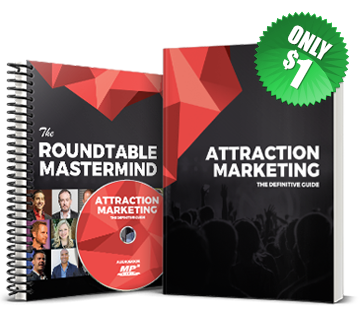 Get a 68-page "all-inclusive" e-book, 82-min mp3 audiobook, and a roundtable mastermind to help you attract buyers for YOUR business.
4) Make ongoing education a core component of your business structure.
Help your team to increase their education and advance their industry knowledge. Whether you offer funding for educational courses or make time in your company's schedule for group learning sessions, the key is to advance the education of all team members.
5) Entrepreneurs who make purpose-driven decisions an integral part of their business' structure tend to build stronger team structures.
When staff members know their decisions should be based on following a purpose, they tend to make decisions they feel good about and are willing to defend. The ability to grow a company built with the talents of purpose-driven individuals is one of the most rewarding successes you'll enjoy as an entrepreneur.
6) Just as a strong team succeeds together, so too must you deal with challenges together.
When a team member stumbles or is going through a difficult time, the entire team must pull together and face the issues as a group. When employees know the rest of the team has their back, they are more likely to up their game in terms of work output and contributions to the growth of the business.
7) How you behave as an entrepreneur sets the tone for your company.
If you gossip about team members or customers, your team will do the same. Earn the respect of your employees by the way you treat others and your team will naturally flourish in the process.
Building a strong, resilient team as an entrepreneur takes hard work and dedication to your goal. It won't happen overnight and it can't be something you demand of your employees, but with ongoing effort and focus, you can build a team of talented individuals solely focused on building a thriving company.
I'm confident that after reading this article you have the full picture on why entrepreneurs build teams and how to do it.
Was this article about 7 Ways Entrepreneurs Can Learn to Build Stronger And More Resilient Teams? Drop me a comment below if you got value. Feel free to share this with your team mates that should know about this.
More Resources For Your Success:
10 Successful Recruiting Strategies ebook: The #1 Secret To What To Say To Your Prospects, So They Will Beg You To Enroll Them In Your Business, Even If You Are Brand New With No Results Yet
How to do Cold Market Prospecting On Social Media: Never run out of people to talk to about your business without leaving your home.
Join the 3% Who Make Real Money in Network Marketing: FREE 12 Minute Video Reveals the Raw Home Business TRUTH, and What it Takes to Join the 3%
Thomas Andre's Helping Entrepreneurs And Network Marketers To Have Success
Skype: aatham (name: Thomas Andre Molvig)
Email: thomas.andre(a)molvig.no (replace (a) with @ when sending email)
Looking for a passive income business so you can have more time for fun and family, but don't know where to start and how to succeed? Then you must watch this on-demand webinar where I explain how I did it and you can too.
PS: Haven't made any sales yet, or would like to increase your sales? This Course will help you (and it's on sale for a limited time)
If you enjoyed this post about 7 Ways Entrepreneurs Can Learn to Build Stronger And More Resilient Teams, feel free to share with others who should know and leave me your feedback in the comments below.