Working from home is a great way to make some extra money, whilst getting to spend time with your kids. Everyday, many mothers choose to earn their income this way. If you're one of such mothers, here are some business tips for mums to instantly boost your marketing efforts.
Let's Dive Into The 3 Secret Business Tips For Mums Wanting To Work From Home
1. The "magic" secret of successful marketing.
Drum roll please! You are about to discover the most important element of any successful marketing campaign. It's.. focusing on your customer's most pressing problem. That's the key – recognising the fact that people give you money when they believe you can help them solve a pressing issue.
Read the above paragraph once again. It's that important! When you get it right, it's that much easier to sell your product or service. You won't have to convince people to buy from you. In addition, you'll be confident that you're actually helping people, and making money at the same time.
2. The key to getting paid.
Even though following your passion is important, in business there is another element that's crucial to your success. Here is the deal: whatever you're passionate about has to have commercial appeal. If it doesn't, you won't be able to make a profit.
A better approach is to align your marketing with what your customers want, first. Then, you can see how your personal goals and passions fit into that picture. You can keep changing and refining that until you find a combination that works for you. There is no need to force yourself into a box that doesn't feel comfortable.
3. Get other people to promote your stuff!
You can make money faster if you connect with other people who serve an audience similar to yours. There are several ways you could do this.
One is to join or form a mastermind group. It's a very powerful concept many successful people us to achieve their financial dreams. What is means is that you meet up with other people who have goals similar to yours. Then you exchange ideas, connections, and resources to help each other. You can have a mastermind meeting in person, or remotely via phone or Skype.
THE TOP EARNER FRAMEWORK?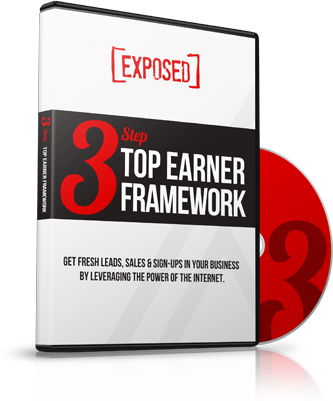 FINALLY Unlock the 3-Step Framework and Learn How to Get Fresh Leads, Sales & Sign-Ups in YOUR Business Leveraging the Power of the Internet.
Another "shortcut" to profits is known as affiliate marketing. With this idea, other people promote your products and services for a commission. The best part is, if they don't make any sales you don't have to pay them anything! There is a catch though: affiliates usually like to see that you have already sold some amount on your own, before they agree to promote. That's because they want proof that there is actual, real world demand for what you've got.
Finally, remember that taking action is the only thing that will bring you results. Do your best to apply these tips immediately. Hopefully, you'll soon become the next success story everyone will be talking about!
Was this helpful? Drop me a comment below if you got value. Feel free to share this with your team mates that should know about this.
More Resources For Your Success:
10 Successful Recruiting Strategies ebook: The #1 Secret To What To Say To Your Prospects, So They Will Beg You To Enroll Them In Your Business, Even If You Are Brand New With No Results Yet
How to do Cold Market Prospecting On Social Media: Never run out of people to talk to about your business without leaving your home.
Join the 3% Who Make Real Money in Network Marketing: FREE 12 Minute Video Reveals the Raw Home Business TRUTH, and What it Takes to Join the 3%
Thomas Andre's Helping Entrepreneurs And Network Marketers To Have Success
Skype: aatham (name: Thomas Andre Molvig)
Email: thomas.andre(a)molvig.no (replace (a) with @ when sending email)
Watch me LIVE: facebook.com/molvigsfanpage
Considering Coaching? Check out my coaching offer molvig.net/coaching where we're getting incredible results for our clients, and is engineered to get you in PROFIT fast.
PS: Haven't made any sales yet, or would like to increase your sales? This Course will help you (and it's on sale for a limited time)
If you enjoyed this post about 3 Secret Business Tips For Mums Wanting To Work From Home, feel free to share with others who should know and leave me your feedback in the comments below.